Do you need to move or service a pool table?
Professional and experienced services by Rochester Pool Table Movers
Guaranteed by a national organization
We are the only organization in the industry that offers 7 days per week support for our customers with the most technologically advanced systems in use today, call our professionals to get a price to move your pool table or if you only have general questions. Your satisfaction is what has made us the largest and most professional company in the industry.

Professional pool table movers of Rochester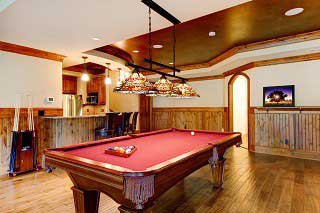 Moving your pool table with ABIA Rochester Pool Table Movers in Minnesota includes professional tear down, safe transport and professional installation with expert leveling. We can reuse the existing cloth if it is in good condition. We handle everything from start to finish.
We provide pool table services and repairs also in Minneapolis, St. Paul, Bloomington, La Crosse, Onalaska, Eau Claire, Winona, Shakopee, Woodbury, Stewartville, St Charles, Zumbrota, Kasson, Austin, Red Wing, Owatonna, Faribault, Northfield, Albert Lea, Hastings, Farmington, Lakeville, River Falls, Rosemount, Cottage Grove, Apple Valley and surrounding areas of Rochester.
We have set up thousands of pool tables throughout the years and have seen everything. One of the specialty tools that we use to ensure the highest level of quality includes a machinist level for accurate leveling.
Beeswax mixed with resin compound is used for filling in holes and seams, and composite wood shims that are moisture-resistant and don't compress as easily as traditional cedar shims.
We proudly serve all of Rochester and the surrounding areas. We specialize in professional pool table moving, pool table setup or billiard installation, and pool table refelting.
We have the ability to offer the highest quality billiard repair and we are the only company in the area that issues a guarantee in writing for a whole year.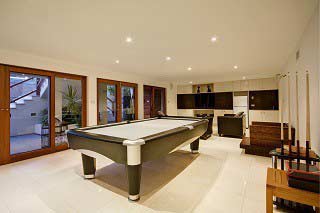 We offer a guaranteed professional pool table recovering service. Our exclusive service guarantee also covers the pool table felt against any tears or manufacturer's defects when we provide new cloth for the refelting service.
Guaranteed satisfaction and leveling on applicable pool tables. We can move pool tables from house or house and we service local businesses also.
Complete pool table moves involve the proper disassembly, transport and pool table setup with leveling.
Each time we take care of a pool table move, we inspect the existing cloth to see if it is in good condition and we can reuse it if you wish. We can also refelt your pool table as well with new material if you desire for an additional cost.
Why you should always use experienced pool table installers
Our qualified team of pool table installers will disassemble your pool table, load it up, move it to a new house, and set up the table with assembly techniques making the billiard table perfectly level.
Be careful of people who are cheap and claim a lot of experience, this in itself is a red flag and if you are a conscious consumer you should consider using a company backed by the only organization representing the billiard installation and service industry.
Pool table movers should be employed for best results and to eliminate the risk of damage and injury.
Pool table installers providing expert billiard table installations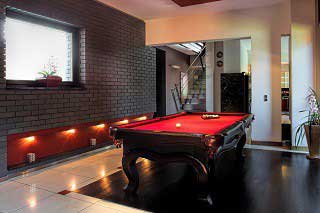 If you already have the pool table pieces in the room and you need it professionally set up, leveled, and you've felt put on. Look no further! We make sure our pool table installations service is simple and clean.
The proper equipment and tools are necessary to ensure a flat, level and consistent installation of any billiard and pool table. We handle a complete pool table moves on a regular basis in case you are trying to buy or sell your pool table.
We set up all billiard and pool tables to necessary specifications to ensure an excellent game for you.
Be sure to have the approximate pool table room sizes ready so that we can verify which size of the pool table you can actually get to fit in your game room. This also helps to see if you need to rearrange the current furniture in this room.
Expert pool table recovering service in high quality felt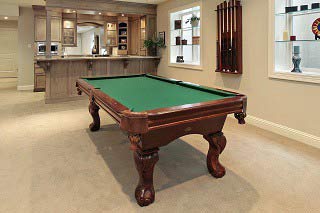 We offer a guaranteed pool table recovering service with two options of billiard felt in several colors to match your decorative needs.
Standard felt and tournament worsted material for the more serious player, if you want your billiard investment to play to its maximum potential, go with the pro tournament felt!
We will come into your house and remove the existing felt from your table, replacing it with standard residential grade cloth. We will also double check your pool table to see if it is level or not, if it isn't we will correct it. Other brands of felt are available such as Simonis.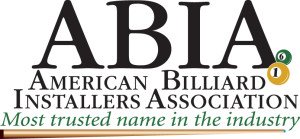 Our professional pool table installers work with standard woolen pool table cloth and tournament grade worsted materials as well.
Our customers can choose from over 30 different colors of pool table felt. We use the highest quality pool table cloth the industry has to offer at this time.
Additional Services That We Offer…
Disassemble a 3 piece slate pool table and move it to storage
Disassemble a 3 piece slate pool table, take out side to storage or moving truck
Pick up billiard table from storage, deliver and install
Move a billiard table for re flooring. 3 piece slate. Requires two appointments
Move a pool table to storage then into a house. 3 piece slate. Two appointments
Disassemble a billiard table that is 3 piece slate and reassemble it in a different room.
The Rochester Pool Table Movers is backed by the only national organization in our industry.
Feel free to give us a call with any questions that you may have.
Give us a call or send us a message below. We'll answer as soon as possible.